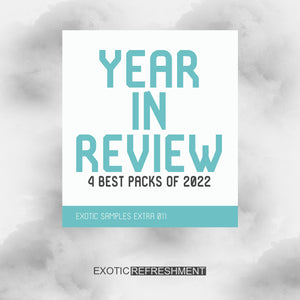 Exotic Refreshment
Year In Review (2022 Edition) - Sample Pack
Regular price
€91,00
Sale price
€130,00
4 best Sample Packs of 2022 bundled together!
Exotic Refreshment are proud to present Exotic Samples Extra 011 - Year in Review (2022 Edition). Package includes our 4 favorite / best sample packs of 2022 from Exotic Refreshment / Exotic Samples catalog and is available for a reduced price.
Bundle contains the following Sample Packs:
• Exotic Samples 068 - African Rhythms - World Series
• Exotic Samples 069 - Himbrecht Deep Melodic Exotics 4
• Exotic Samples 070 - Gabieris Organic Session vol. 2
• Exotic Samples 074 - Sofiya Nzau Voices From Miruri vol. 1

Bundle contains total number of 763 WAV files and weighs 2,69 GB!

#1 African Rhythms - Sample pack includes total number of 318 loops and samples in WAV (44.1 kHz, 24-bit) format that you can use to produce a variety of music genres like House, Afro House, Deep House, Organic House, Downtempo, Electronica, Minimal, Tech House or Techno.
Inside you will find 79 African Rhythms Loops with instruments like Bolon, Balafon, Kora, Ngoni, Fula Flute, Dununba, Djembe, Kenkeni and Sangba.

Collection includes also 10 Kick Drum Loops (clean, without any other drums for your better control over the loop), 12 Ambience Loops containing the sounds of Africa, African Savanna, nature, wildlife, nightlife, animals, birds, insects, bush, thunderstorm, thunders, and 5 Shaker Loops.

Additionally you will also find here 129 One Shots of African Drums & Percussions like Calabash, Djembe, Krin Log Drum, Dunun (Dununba, Sangba and Kenkeni) and 83 One Shots of African Instruments like Balafon, Bolon, Kora and Ngoni.
#2 Himbrecht Deep Melodic Exotics 4 - Sample Pack by Himbrecht (Natura Sonoris, Armada Music, Nie Wieder Schlafen, AKASHA MX, Anathema Records), an electronic music producer from Romania!
A few words from Himbrecht himself: "This pack further explores sampling and how old recordings can turn into new loops through the creative use of effects and racks. Expect raw drums mixed with some liquid ear-candy and then epic pads and quirky rhythms to top it all.

No obvious inspiration for this one, other than the warmth the original recordings provided."
#3 Gabieris Organic Session vol. 2 - Sample Pack by Greek producer Gabieris, who is known from the releases on labels such as Cafe De Anatolia, Lump Records or Exotic Refreshment LTD.

Sample pack is full of influences from traditional Balkan and Oriental music, with instruments like Lute (Greek traditional handmade stringed instrument) and Saz (Sazi in Greek).

You can find here also a collection of beats and ethnic percussions, various sounds of Clavinet V, groovy basslines from ARP Odyssey and from other synthesizers.

Organic Session vol. 2 provides orientalist Organic House / Afro House samples and ritual sounds inspired by major labels such as Sol Selectas, Cosmic Awakenings, Lump Records, Cafe De Anatolia, Exotic Refreshment, Pipe & Pochet etc.
Pack features a collection of 104 loops and samples in wav format (44.1 kHz, 24-bit), perfect for music production of Organic House, Downtempo, Afro House, Melodic House & Techno, Deep House, Electronica and other genres.
#4 Sofiya Nzau Voices From Miruri vol. 1 - She has been working with a lot of Afro House DJs from around the world, to provide Afro House vocals for tracks that were released on labels like MoBlack Records, Spinnin' Records and Ultra Records, just to name a few.

To meet the need for authentic tribal vocals, she decided to record a vocal pack full of stories inspired by love, culture, African culture, spirituality, social activities and daily hustle.

Sample Pack includes 1.66 GB of Single Vocals and Vocal Loops in wav format (44.1 kHz, 32-bit). All samples are in wet and dry versions for your full control over the music production process.
Loops and samples are recorded at 120, 122 and 123 BPM and can be used to produce Afro House, Deep House, Organic House / Downtempo, Techno, Amapiano, Melodic House and Electronic music. The length of the loops varies from 16 seconds to 1:04 min.
Sofiya Nzau Voices From Miruri vol. 1 includes only Vocals! The background music used in Demo 1 was created from loops and samples available in "Mario Bazouri Melodic Afro House vol. 1". The background music used in Demo 2 was created from loops and samples available in "Agawe Cosmic Resonance vol. 1". In both Demos the Atmosphere samples and Sound Effects are from "Sfx Mega Bundle" and "Ancient Rhythms Mega Bundle".

--------------------------------------------------------------
<< Full Year In Review (2022 Edition) bundle contains:

• 763 WAV (599 x WAV 44.1 kHz, 24-bit, 164 x WAV 44.1 kHz, 32-bit)
• unzipped: 2,69 GB
• 79 African Rhythms Loops (including Bolon, Balafon, Kora, Ngoni, Fula Flute, Dununba, Djembe, Kenkeni and Sangba Loops)
• 22 Ambience & Atmosphere Loops
• 10 Bass Loops
• 67 Drum Loops
• 20 Fx
• 20 Kick Drum Loops
• 78 Musical & Synth Loops
• 85 One Shots
• 129 One Shots of African Drums & Percussions (including Calabash, Djembe, Krin Log Drum, Dunun - Dununba, Sangba and Kenkeni)
• 83 One Shots of African Instruments (including Balafon, Bolon, Kora and Ngoni)
• 5 Shaker Loops
• 28 Single Vocals
• 136 Vocal Loops
• 115-123 BPM
• All files tempo and key labelled
• 100% Royalty-Free

---
More from this collection